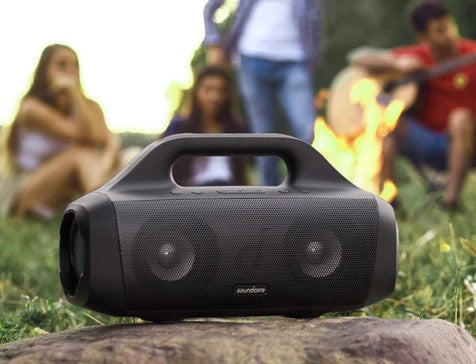 Connecting a speaker to our phones is a great way to enjoy our favorite music, podcasts, or audiobooks with better sound quality. With advancements in Bluetooth technology, it's now easier than ever to connect your phone to a speaker wirelessly. Whether you're hosting a party, going on a road trip, or just relaxing at home, a Bluetooth speaker can make a big difference. In this article, we'll guide you through the detailed steps on how to connect Bluetooth speaker to phone, whether you're using an Android or iOS device.
How to Connect a Bluetooth Speaker to iPhone
For how to add a Bluetooth device to your iPhone, please follow the steps below:
Turn on the Bluetooth speaker and make sure it's in pairing mode. Refer to the speaker's manual for instructions on how to put it in pairing mode.
On your iPhone, go to "Settings" and then "Bluetooth".
Toggle on Bluetooth to enable it.
Wait for your iPhone to detect available Bluetooth devices. The speaker should appear on the list of available devices.
Tap on the name of the speaker to connect to it.
Once connected, the speaker should show up as "Connected" in the list of devices under Bluetooth settings.
Generally, it only needs to connect once and your Bluetooth speaker will connect automatically later every time it's turned on for music or audio on your iPhone playing through the Bluetooth speaker.
How to Connect Bluetooth Speaker to Android Phone
There are many Android phones on the market. The specific options and steps may vary from brand but generally, you can follow these steps for how to pair Bluetooth speaker with an Android phone:
Same as above, power on the Bluetooth speaker and put it in pairing mode.
On your Android phone, go to Settings > Bluetooth. Turn on Bluetooth if it's not already on. Your phone will automatically start scanning for nearby Bluetooth devices.
From the list of available devices, select the Bluetooth speaker you want to connect to.
If prompted, enter the Bluetooth speaker's PIN or pass key to complete the pairing process.
Once connected, your phone will show a "Connected" message next to the Bluetooth speaker's name in the list of available devices.
How to Connect Multiple Speakers to a Phone
We can connect multiple speakers to a phone in different ways, depending on the type of speakers and the phone you have. Check out the following parts before you decide how to connect your phone with multiple speakers:
Determine the type of connection your speakers and phone support
Before attempting to connect multiple speakers to your phone, make sure the speakers are compatible and can be connected simultaneously. Some speakers support Bluetooth connectivity, while others may use Wi-Fi or other wireless technologies.
Check the compatibility of your phone
Ensure that your phone is compatible with the type of connection the speakers support. For example, some older phones may not support Bluetooth 5.0 or higher, which is required to connect to multiple speakers at the same time.
Connect with Your Bluetooth
For those phones supporting Bluetooth 5.0 or above, please continue with the following steps.
- Turn on pairing mode on your speakers: Put your speakers into pairing mode by pressing and holding the pairing button until the indicator light flashes or a voice prompt indicates that the speaker is ready to connect.
- Open Bluetooth settings on your phone: For how do I put my phone in pairing mode, please go to "Settings" and turn on Bluetooth on your phone. Your phone should scan for nearby devices and display the available speakers.
- Pair your speakers: Select the first speaker you want to connect to your phone from the list of available devices. Once paired, repeat the process for the second speaker and any other speakers you want to connect with.
- Adjust the settings: After connecting multiple speakers to your phone, you may need to adjust the settings to ensure they are working properly. Some apps or devices may have specific settings for multi-speaker configurations.
Connect via the Speaker Manufacturer's App
It's important to note that not all speakers can be connected simultaneously to a single phone. Some may require the use of a manufacturer's app to connect multiple speakers to one phone.  For example, if you're using soundcore Motion+ wireless speaker with Bluetooth, a novel and inventive method of connecting numerous speakers without the need for wires is simply pressing the PartyCast button, which provides you with the ability to craft a captivating auditory experience for any event.
Connect via Third-party Apps or Devices
For those phones without Bluetooth 5.0 or higher, it's a good idea to find some external third-party Apps like the AmpMe app from the Google Play store or App Store to help with multiple speakers' connection.
FAQ
How do Bluetooth speakers work?
Bluetooth speakers work by connecting wirelessly to our phones or tablets using Bluetooth technology. For how to connect Bluetooth to phone or other devices, the Bluetooth speaker when we turn it on and put it into pairing mode usually broadcasts a signal that our devices can detect for pairing. Once paired, the audio from our devices can be transmitted to the Bluetooth speaker for enjoyment. So it's the Bluetooth technology that ensures the sound quality is maintained, and the audio is transmitted without any noticeable delay or distortion.
Why won't my speaker connect to my phone?
There could be several reasons for this problem. For example, the Bluetooth of your speaker or phone isn't turned on or in pairing mode, your phone or speaker is out of range, or your speaker is already connected to another device, etc. In case you are experiencing constant problems with Bluetooth connections, consider resetting your devices, or updating the software to connect again.
How do I reset my Bluetooth speaker?
The specific steps for resetting a Bluetooth speaker may vary depending on the brand and model. Generally, we can follow these steps:
Find the reset button or the button combination for resetting the device. Check the speaker's manual for information if you can't find it.
Press and hold the reset button or button combination for several seconds until the device resets. You may see a light flash or hear a sound to confirm the reset.
Turn your Bluetooth speaker back on and try pairing it with your phone or other device again.
Conclusion
Now that you know how to connect phone to speaker with Bluetooth. It should be easy for you to solve the problem as well: how to put my earbuds in paring mode. By following the steps outlined in this article, you can easily paire and connect your Bluetooth speaker to your iPhone or Android device to greatly enhance your audio experience. You can also connect with a pair of wireless earbuds to enjoy high-quality audio on the go. Happy listening!